Home > Using CampControl > Travel > Accommodation Request
Accommodation Request
View this page in Español, Français, Português, Русский or another language.
1. Select the Region and Location that this request is associated to.
Your choice is between Regions and Locations to which you have been designated by your CampControl Account Manager.
Your choice of Location determines which Accounting Codes are presented to you in regard to payment for your booking.
If you have been given the appropriate permission, you will be able to make the request on behalf of other CampControl users.
Remember that the name being chosen here relates to who wants the booking to be made, not necessarily who is travelling.
2. Enter the details of the requested accommodation, including any notes to the person who will make the reservations and click the "Next" button. Details include city, hotel name, check-in and check-out dates, number of people, room type, reservation name, any notes and the Accounting Codes (Programs, Activity Codes and Cost Codes – see Customise CampControl to configure these codes).
| | |
| --- | --- |
| | If you have found details of the accommodation you want on the Internet, copy them from your browser page and past them into the Notes section. |
3. Enter the details of each guest and click "Next"
Click the "Save" button to submit the request to the Expediter or, if you wish to restart the order, click the "Reset" button to blank out any values you've entered.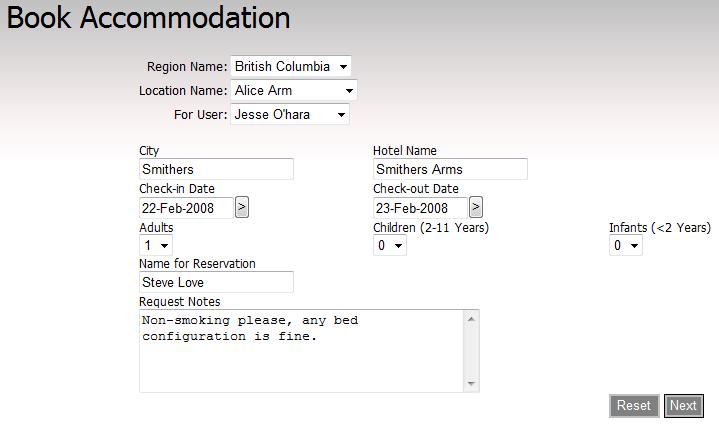 You need the following permissions (see Manage Permissions):

To view this screen: "Create Travel Order"
To enter Accommodation Requests on behalf of other users: "Create Orders On Behalf Of"
See also