Home > Using CampControl > Travel > Charter Request
Charter Request
View this page in Español, Français, Português, Русский or another language.
1. Select the Region and Location that this request is associated to.
Your choice is between Regions and Locations to which you have been designated by your CampControl Account Manager.
Your choice of Location determines which Accounting Codes are presented to you in regard to payment for your flight.
2. Enter the flight route, showing all stops made. At each stop, passengers or freight may be loaded or dropped off.
| | |
| --- | --- |
| | CampControl assumes a round trip (as it usually the case) and so automatically updates the stop location to be the same as the start. You can update the stop to something else, if the flight is not a round trip. |

3. Click the "Next" button to continue with the request.

4. Enter the details of the Air Charter Request on this screen. These details are used by the Expediter to book your Air Charter. Details include charter date, aircraft, Accounting Codes (Programs, Activity Codes and Cost Codes – see Customise CampControl to configure these codes) and details for each leg which include the pickup or dropoff location, passenger details, freight details and Account Codes for each leg.

If you need to add more legs, click the "Add Leg" button.
Click the "Save And Continue" button if you are not finished entering the details but would like to save them in the interim. The charter is placed in your draft orders, allowing you to return to it, if you are unable to submit it in the current session.
If you have been given the appropriate permission (see below), you will be able to make the request on behalf of other CampControl users.
Remember that the name being chosen here relates to who wants the booking to be made, not necessarily who is travelling.
5. Click the "Submit" button to submit the request to the Expediter.


6. Your Charter Request will immediately appear in the "Orders in Progress" list of the party you assigned it to, and, if selected, an authorisation request will immediately be emailed to the authorising party. In the latter case, the Charter Request will be flagged as requiring an authorisation, so that it is not actioned before the authorisation is granted.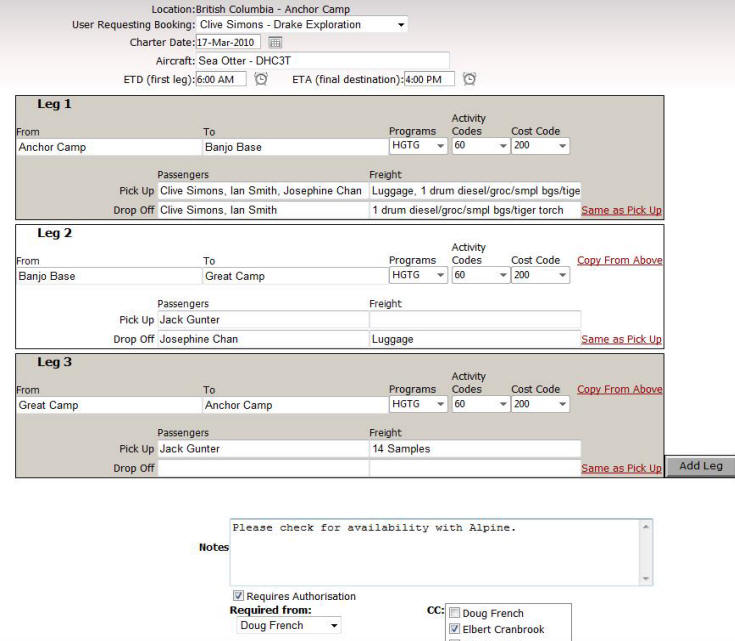 You need the following permissions (see Manage Permissions):

To view this screen: "Create Travel Order"
To enter Charter Requests on behalf of other users: "Create Orders On Behalf Of"
See also