Home > Using CampControl > Freight Control > Send Freight > Shipping Labels
Shipping Labels
View this page in Español, Français, Português, Русский or another language.
CampControl makes it easy to create and print shipping labels by clicking on the "Create Shipping Labels" button which is displayed in both the Freight and Samples submenus. This will display the following page: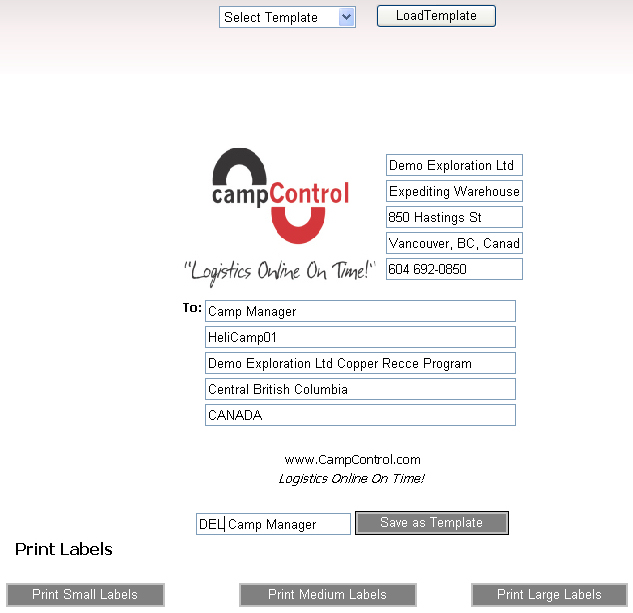 If label templates have already been created (to save time re-entering addresses), these may be accessed from the dropdown menu shown at the top of the display.

Alternatively, details of the sender's and the destination addresses can be entered into the appropriate fields on the form, and small, medium or large labels printed by clicking on the appropriate button at the bottom of the display.

To save the label details in a template for use again at some later time, enter a suitable name into the "Save as Template" field, and click on the button. The label details will be saved, and a short message will pop up explaining that the browser should be refreshed for the new template to appear in the dropdown list of templates at the top of the page. Close the message window, click on the browser's refresh button, and select the template of interest. The labels will be ready to print.

An example of the labels is shown below.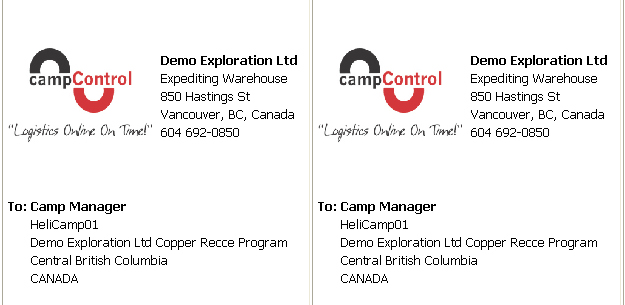 You need the following permissions (see Manage Permissions):

To view this screen: "

Create Shipping Labels

"
See also