Home > Using CampControl > Inventory
Inventory
View this page in Español, Français, Português, Русский or another language.
When it comes time to inventory the company's assets, most exploration companies face a tremendous headache, often with items of value distributed between many centres.

CampControl provides all the functionality you need to keep track of valuable assets - from the very moment that they are purchased. In fact, the system is so flexible that it can even be used for small mining opererations.

Furthermore, the system makes it easy to keep track of what happens to items after they have left your inventory - whether by consumption, scheduled replacement, breakdown or even theft.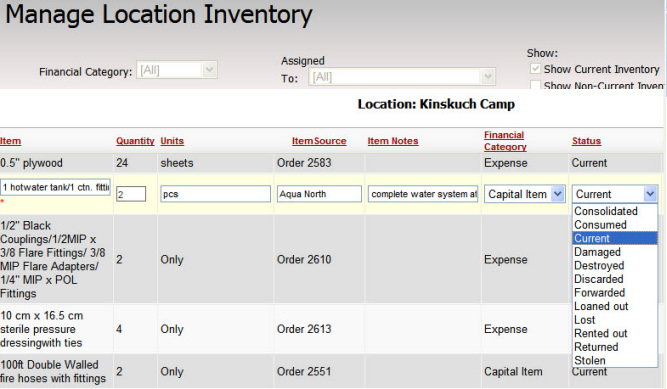 Keeping track of items which, while remaining on inventory, move from one location to another, is simply accomplished in CampControl, with all the requisite documentary records, waybills, etc, if long-distance shipping between locations is required.

If you already have an inventory list before you start using CampControl, it is easy to upload it into CampControl from an Excel spreadsheet.

By providing a turnkey, easy-to-learn, solution to inventory and capital asset management, CampControl can save you thousands of dollars in "shrinkage".



See also