Home > Using CampControl > Custom Logs
Custom Logs
View this page in Español, Français, Português, Русский or another language.
CampControl allows you to create your own purpose-specific logs. This flexible feature implements centralised storage and sharing of any kind of tabular data-log. It provides the log-designer with control over who can view and/or update the data in the log.

Creating a Custom Log is easy with the Custom Log Creation Wizard (see Manage Custom Logs), which provides a guide through each step necessary to create the log. Below is a screenshot of a user creating a "Game Sightings" log to record game sightings near their camp. In this step the user is setting up which columns are required, and specifying what type of data they must store.
Once created, the log can be used just like any of the standard logs that come with CampControl, with the following functions:

Sort data (on multiple columns)

Filter data

Add / Edit / Delete rows

Upload data in an Excel file

Download to Excel

Download to PDF
The screenshot below shows an example log in use: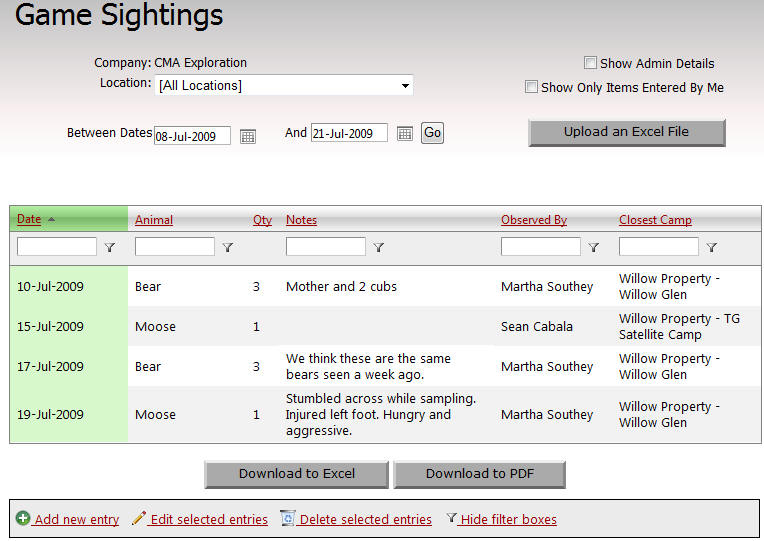 For a detailed tutorial on setting up a Custom Log, click: CampControl Custom Log Tutorial.
Permission to view the screen is determined during the log creation (either on a per Role or per User basis).
If the data is Location specific, users can view only the data that is related to the Locations to which they are designated.
See also